Step 01
Login to iTunes Connect > click on My Apps > select your App icon.
Step 02
In the next screen, Click on Features.

In the left-sidebar menu, select your main Subscription Group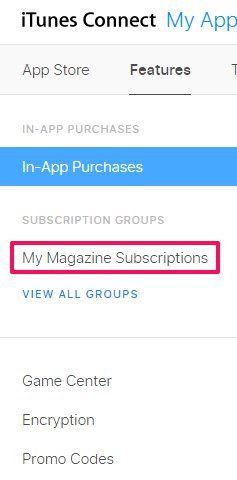 Step 03
Click on the Plus "+" icon next to Subscriptions
In the pop-up that appears, add the name of your Subscription, as well as the Product ID
Click on Create.
Step 04
In the next screen, complete the following Subscription Settings.
Subscription Duration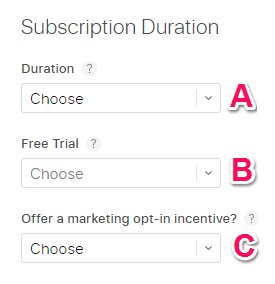 2A – Select your subscription Duration.
+ 1 Week
+ 1 Month
+ 2 Months
+ 3 Months
+ 6 Months
+ 1 Year
2B – select a Free Trial period for your subscription
NOTE: This setting allows readers to test your app for a certain period. Once it expires, the standard price set for this subscription will be charged. Free Trial options available depend on duration selected.
2C – Select free subscription period to offer as an Marketing Opt-In incentive
NOTE: This setting is used to offer a free subscription in exchange for your reader's emails. Subscriptions periods available depend on duration selected.
Subscription Prices
Click on Set Starting Price

In the next screen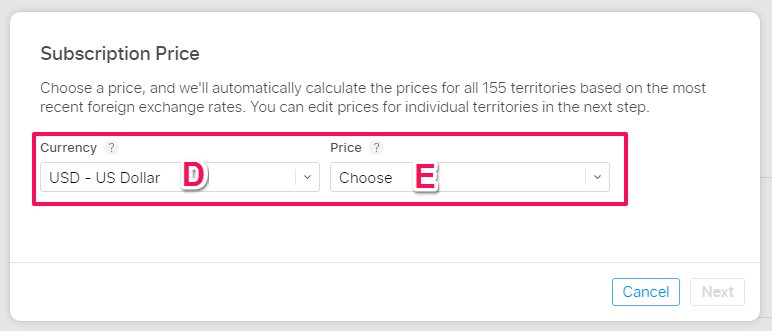 2D – Select a Currency type for your App
2E – Select Price Tier
Click on Next
Your selection will process for a few minutes.
In the next screen, click on Create
Then click on OK


Localisations
Click on the '+' plus icon and select the main Language for your app

In the next screen



2F – Add the Subscriptions Name
2G – Add a short description for the subscription
Review Information
NOTE: This section is used by the Apple Reviewer only.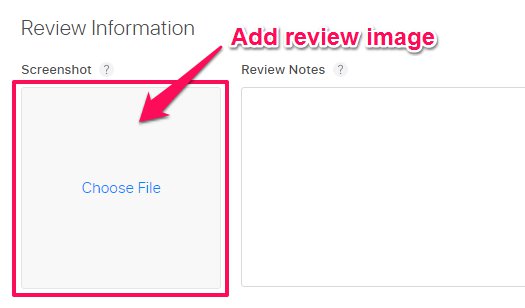 You will need to upload a 768×1024 PNG image (for example your first Magazine cover)
Select your image and click Open
Wait till image has uploaded and is visible
Click on Save
Once Saved, you can view your new subscription by clicking on the In App Purchases section in the left-sidebar menu.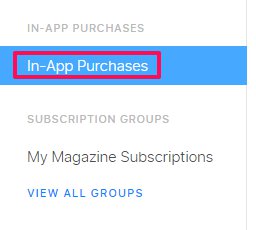 It's status should show Ready to submit in In App Purchases section.


To submit your Subscription for review, simply tick your Subscription to select it and then click on the Submit for Review button at the top-right of the screen.
IMPORTANT: Do NOT delete your inApp purchase, you can always click on it and edit the information. If you delete it, Apple will NOT let you select the same Product id as shown above. If you do not use the same Product ID, the subscription will not work.