If you would like to speed up the editing process of creating Native Version articles, give the new Import DOC feature a try.
Now you can first plan out the layout and format of each Native Version article in a Word Document and when ready, simple import that file in to the Native Version article. All formatting, images and links setup in the Word doc will be retained and imported in to the article saving you tons of time. For Word Doc Guidelines, scroll down to the bottom of this article.
How to Import a Word Document
In the Native Version of your issue, click on the Import DOC button.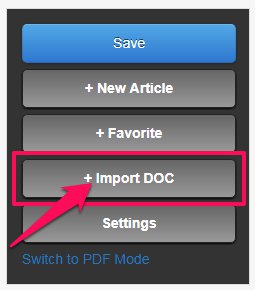 The Import Doc pop-up will appear. Simply click on Choose File and select the Word doc you want to use from your computer. Once selected, click on Upload.


Your Word doc will begin uploading to the new article that you just created.


Once complete, the article setup in your Word doc will appear in your Native Version article, fully formatted. All images and links that you included in your Word document will also be included, like the example below.

Word Doc Guidelines
All the same formatting rules apply as if you're creating/editing directly in Native Mode, most importantly: One column of text is supported, multi-columns aren't.
That's not to say multi-columns won't work; they're just not entirely supported.
Headlines, bold, italics, and the like should all import as expected, and links and images should import well, too.
Videos should be added to the article from within the Native Mode editor after the Word doc has been imported.
Each Native Version article must be imported as a separate Word document. Adding all your Native version articles in to one word document is not supported.
The Import DOC feature is officially "beta", even though it works perfectly at least 90% of the time… we want it to be as close to 100% as possible.Importing Word Docs is a challenge, due to the many different combinations of OS/OS Versions/Word/WordPerfect/Google Docs/Zoho Docs.

Anytime you encounter anything that doesn't import as you expect, please email [email protected] your ORIGINAL Word file and the issue/page where it's not working as expected. This lets us teach the importer about different formats and make it better.