Step 01 – Create Project
To enable Push Notifications for your app, go to the Google Cloud Platform
Login with your Google Play store account details
If this is the first time, you will need to create a new project
To do this, in the menu bar, click on Create Project


A pop-up will appear > simply click on the + Plus Icon on the far-right



In the next screen, give your project a name (magazine name) and click on Create


Your new project will now appear in the Google Cloud Dashboard
Under Project Info > click on Manage Project Settings
In the next screen, under Project Number, copy the number that appears.
Go back to MagCast > Android Setup Menu
Select Enable Push and and paste it in the Project number in the field provided.
Step 02 – Enable Cloud Messaging
Go to the Firebase Console
Click on Import a Google project


Click on the radio button for your app name
Select your country region
Click on Add Firebase button
Your App Project will appear in the Firebase Dashboard > click on it
The page will reload
In the left sidebar, click on the Gear icon next to your app name
Click on Project Settings


Click on the Cloud Messaging Tab
Click on the Generate Key link
Copy the Server Key displayed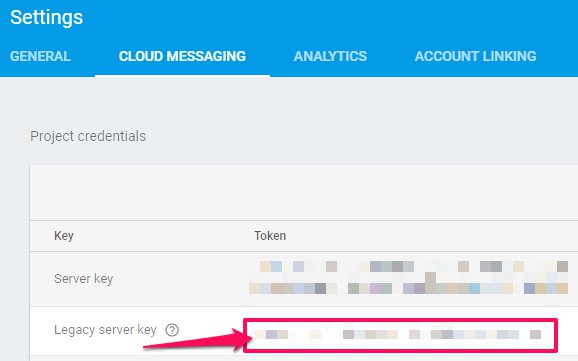 Paste the Server key in the field provided in MagCast

Step 03 – Enable Google Cloud Messaging for the app
Login to your Google Play Developer account here
Click on the Services & Api tab


Under the Firebase Cloud Messaging (FCM) section click on Link Sender ID


Paste the Server key you copied in step 2 and click Link


The page will refresh and the Project number for your app should appear.
Step 04 – Save your details
Go back to MagCast Enable Push section
Click on the Submit button save your details


Click the button below to go to the next step in the app setup…